Note: This site is no longer being maintained, unfortunately. Most of the pages haven't been modified for years. See the homepage for the only part of this site that is being kept up to date.
---
jump to bottom of page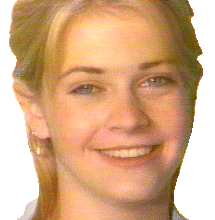 jump to...
Welcome and introductory comments
Contents of Information Archives
Welcome to my Melissa Joan Hart Information Archives! These pages are all about the actress Melissa Joan Hart (MJH), her two TV series Clarissa Explains It All (CEIA) and Sabrina, the Teenage Witch (STTW), and the ``clarissa'' mailing list, which is devoted to discussion of all things Melissa.
It is divided into four main sections, as shown in the contents below.
Other Melissa-related sites may be found in Melissa Joan Hart sites around the net.
Please take a moment to read Some things to note.
---
---
This Melissa Joan Hart Web Page Ring site is owned by Donald Lancon, Jr.
Want to join the Melissa Joan Hart Web Page Ring?
[Skip Prev] [Prev] [Next] [Skip Next] [Random] [Next 5] [List Sites]
---
jump to...
Welcome and introductory comments
Contents of Info Archives
---
Current section: Info Archives
Next page: Introductory information
[Info Archives] [Melissa] [Sabrina] [Clarissa] [Mailing List] [What's New?] [E-mail Me]
---
Donald Lancon Jr [e-mail me] Page content last modified: Sat, Jul 25, 1998