Note: This site is no longer being maintained, unfortunately. Most of the pages haven't been modified for years. See the homepage for the only part of this site that is being kept up to date.
---
jump to bottom of page
This is my favorite CEIA promo. (Acutally, I haven't really seen many, since I only started watching CEIA religiously after they went into permanent repeats.)
This promo was used in Dec 95 to announce a time change from 6:30 p.m. to 5:00 p.m. (Central U.S. time) weekdays.
Here's a transcript with pictures...
---
[starts with black screen; a hand holding a TV remote-control comes into the frame and ``switches on'' the screen]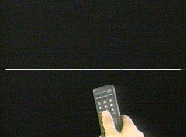 Announcer: ``She's a high school student, a daughter, a sister...''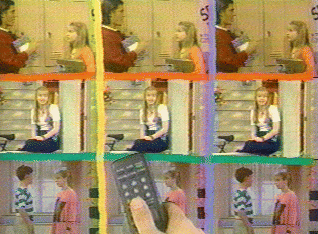 [scenes from ``Educating Janet'' (#152), ``'' (#1) and ``The Darling Wars'' (#128) (?)]
Announcer: ``A boxer, a swami, a doctor...''

[scenes from ``Bully'' (#107), ``Haunted House'' (#106) and ``Sam.....Darling'' (#116) (?)]
Announcer: ``A prisoner, a phone operator, a reporter...''

[scenes from ``Clarissa Gets Arrested'' (#164), ``'' (#1) and ``Total TV'' (#126)]
Announcer: ``A power lifter! An island goddess! A broadway star...''

[scenes from ``Bully'' (#107), ``Road Trip'' (#143) (???) and ``Janet & Clarissa, Inc.'' (#160)]
Announcer: ``Country singer, astronaut, waitress...''

[scenes from ``Janet & Clarissa, Inc.'' (#160), ``UFO'' (#163) and ``Punch the Clocks'' (#131)]
Announcer: ``Race car driver, cowgirl, a punk rocker!''

[scenes from ``Parents Who Say No'' (#111) (?), ``Life of Crime'' (#137) and ``Alter Ego'' (#157)]
Announcer: ``See Clarissa do it all when Clarissa Explains It All. Every weekday at 6:00/5:00 Central. Only on Nickelodeon.''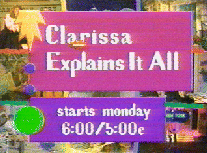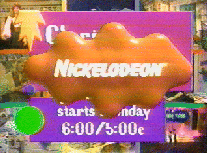 [the screen is ``turned off'' by the remote control]
---
Current section: Info Archives / Clarissa / CEIA Promos
Next page: Miscellaneous old Clarissa news
Previous page: CEIA promos
[Info Archives] [Melissa] [Sabrina] [Clarissa] [Mailing List] [What's New?] [E-mail Me]
---
Donald Lancon Jr [e-mail me] Page content last modified: Fri, Jul 24, 1998