Note: This site is no longer being maintained, unfortunately. Most of the pages haven't been modified for years. See the homepage for the only part of this site that is being kept up to date.
---
jump to bottom of page
One of the ``running gags'' in CEIA was that Sam would always enter Clarissa's second-story bedroom through the window, by way of a ladder. (Actually, Sam didn't always enter through the window, but we won't get into that here.)
See my CEIA episode pages for dialog between Clarissa and Sam during each of these entrances. Also, see ``Interview'' with Mitchell Kriegman for his thoughts about this aspect of the show.
Graphs and summary info
Here's a graph:

              Sam's Entrances Through Clarissa's Window

  # of
entrances

  5+                    o                                            
  4+          o        o   o                     o o                o
  3+           ooo    o      o  ooooo     o  o    o       o          
  2+  o  o  oo    o o     o   o       o oo           o  o  o     oo  
  1+o  oo oo         o      o          o    o o     o oo o  oo oo  o 
  0+ o             o     o     o     o     o   oo             o      
   ++++++++++++++++++++++++++++++++++++++++++++++++++++++++++++++++++
    00000000011111111112222222222333333333344444444445555555555666666
    12345678901234567890123456789012345678901234567890123456789012345
    \__season 1_/\____season 2___/\_______season 3_______/\_season 4/

                             episode (#1xx)

Some summary info:

  Per-Show         Per-Show Averages
  Counts           By Season

  0x:  9           1.77 in 1st season (23 entrances in 13 shows)
  1x: 19           2.24 in 2nd season (38 entrances in 17 shows)
  2x: 16           1.79 in 3rd season (43 entrances in 24 shows)
  3x: 14           1.64 in 4th season (18 entrances in 11 shows)
  4x:  6
  5x:  1           1.88 for entire series (122 entrances in 65 shows)

And finally, here's a graphical version of the above plot: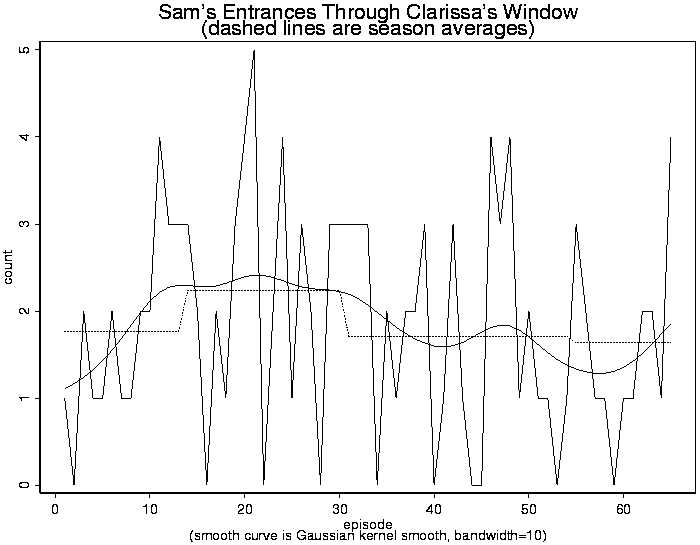 ---
Current section: Info Archives / Clarissa
Next page: CEIA promos
Previous page: Running times summary
[Info Archives] [Melissa] [Sabrina] [Clarissa] [Mailing List] [What's New?] [E-mail Me]
---
Donald Lancon Jr [e-mail me] Page content last modified: Fri, Jul 24, 1998