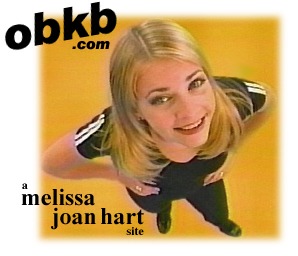 Welcome to
OBKB

!

obkb.com was founded by chanson and Donald Lancon to be an archive of media and information about the actress Melissa Joan Hart.
Note: If you came here looking for something that has nothing to do with Melissa, maybe you can find it on Donald's personal homepage.
There are two sections of obkb.com that will eventually (?) be tightly integrated:
The media archives will hold a comprehensive collection of print, television, movie, and radio based media. It's less than 20% full right now, compared to what could be here (sorry!). These media archives replace the Melissa Joan Hart section of chanson's Actress Archives (no longer online, unfortunately) and will eventually completely supercede the Melissa archives at tcp.com.

At the moment, the information archives merely consist of ``Donald's Melissa Joan Hart Pages'' moved from their old location at stat.tamu.edu (a university statistics department web-site which no longer contains anything about Melissa). Most of these pages have not been modified since mid 1998.
Please note, the most recent information at this site is Donald Lancon's Melissa Joan Hart Bookmarks, which contains links to hundreds of Melissa-related pages and was last updated in Mar 2004.
(OBKB is now hosted by Zernebok Hosting. Thanks to TCP.com for hosting us for three years.)